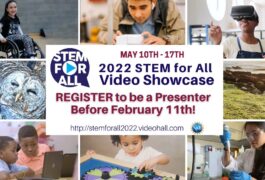 𝗧𝗵𝗲 𝟮𝟬𝟮𝟮 𝗦𝗧𝗘𝗠 𝗳𝗼𝗿 𝗔𝗹𝗹 𝗩𝗶𝗱𝗲𝗼 𝗦𝗵𝗼𝘄𝗰𝗮𝘀𝗲 𝗥𝗲𝗴𝗶𝘀𝘁𝗿𝗮𝘁𝗶𝗼𝗻 𝗶𝘀 𝗻𝗼𝘄 𝗼𝗽𝗲𝗻!
January 13, 2022
REGISTER by Feb 11th to share your video!
Share your federally-funded project to improve STEM & CS education by submitting a 3-minute video. Discuss it online with researchers, educators, policy makers, and the public. Connect to others in the field and broadly disseminate your work! Last year's Video Showcase attracted 99,000+ visitors!