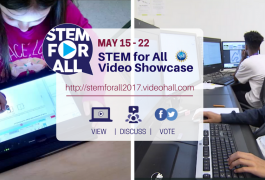 TERC Hosts 2017 STEM for All Video Showcase, Funded by NSF, to Highlight Innovation in STEM Education
May 15, 2017
171 three-minute videos of innovative work broaden participation and access to STEM education.Showcase online: May 15th-22nd
May 15, 2017
FOR IMMEDIATE RELEASE
3rd annual Video Showcase encourages interaction, collaboration, networking and public voting to recognize most effective presentations
Cambridge, MA — If you're a researcher, practitioner, policy maker, or parent interested in inspiring students to pursue science, technology, engineering, and mathematics (STEM) careers, how can you find out about innovative initiatives to improve STEM education?
One answer is the » Read more
An invitation to join Empowering Teachers Through VideoReView
May 14, 2017
TERC's Video-Supported Professional Learning Program
For teachers of science grades 2-6 in the Boston areaSchool Year 2017-2018
Applications due June 20th
TERC's Empowering Teachers through VideoReView program is inviting teams (2-4 teachers of upper elementary grade science) to participate in a video-supported professional development program.
What is the Program?
Empowering Teachers Through VideoReView is a video-supported professional development program in which participants study video from their own science discussions. Using video they gain insight into students' science ideas and reasoning, » Read more
May 5, 2017: Announcement
May 5, 2017
Engage Families, a project at the USS Constitution Museum, links to Project REVEAL
May 2, 2017: In the News
May 2, 2017
EMPower pilot program delivered pre-GED math to students in 20 counties in Kentucky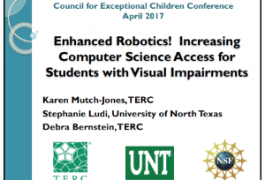 Council for Exceptional Children 2017 Convention & Expo
April 20, 2017
Thousands of educators convened in Boston April 19–22 for the world's largest special education professional development event. CEC 2017 hosted over 4,000 educators from around the globe, to gain insights and explore solutions to the most important and challenging topics facing special education today. Over 500 sessions and workshops highlighted the newest research and strategies in special education and the policy developments that affect teachers and their work every day.
One of the Robotics, Engineering and Online Math sessions was led by TERC's » Read more