An invitation to join Empowering Teachers Through VideoReView
May 14, 2017
TERC's Video-Supported Professional Learning Program
For teachers of science grades 2-6 in the Boston areaSchool Year 2017-2018
Applications due June 20th
TERC's Empowering Teachers through VideoReView program is inviting teams (2-4 teachers of upper elementary grade science) to participate in a video-supported professional development program.
What is the Program?
Empowering Teachers Through VideoReView is a video-supported professional development program in which participants study video from their own science discussions. Using video they gain insight into students' science ideas and reasoning, » Read more
May 5, 2017: Announcement
May 5, 2017
Engage Families, a project at the USS Constitution Museum, links to Project REVEAL
May 2, 2017: In the News
May 2, 2017
EMPower pilot program delivered pre-GED math to students in 20 counties in Kentucky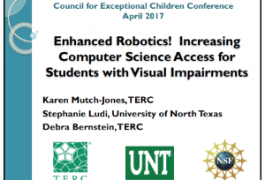 Council for Exceptional Children 2017 Convention & Expo
April 20, 2017
Thousands of educators convened in Boston April 19–22 for the world's largest special education professional development event. CEC 2017 hosted over 4,000 educators from around the globe, to gain insights and explore solutions to the most important and challenging topics facing special education today. Over 500 sessions and workshops highlighted the newest research and strategies in special education and the policy developments that affect teachers and their work every day.
One of the Robotics, Engineering and Online Math sessions was led by TERC's » Read more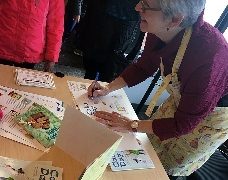 TERC Workshops at Cambridge Science Festival 2017
April 18, 2017
The workshops at TERC that were part of this year's Cambridge Science Festival were fully attended and brought together science, technology, engineering, mathematics and fun!
Everyday Math Stories/Cuentos matemáticos cotidianos
Come for an English/Spanish storytime. Author Ellen Mayer read her book, Cake Day, and signed copies for everyone. Her picture book and others included the math we do when we're cooking, playing and having fun. Activities after the storytime had the children building towers with everyday items and measuring and mixing to make play dough. » Read more