Principal Investigator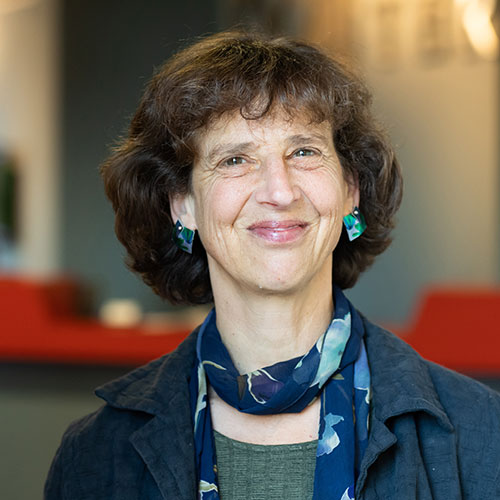 Program/Areas of Interest
Martha Merson is an educator who draws on visual arts and storytelling to enhance science, math, environmental health, and literacy learning for adults and youth in out-of-school settings.
Biography
Martha Merson serves as a Principal Investigator at the Education Research Collaborative at TERC in Cambridge, MA. For 14 years, she worked on formative research and curriculum design related to promoting understanding of real-world math concepts.
Martha is currently PI of iSWOOP. For this project, National Park Service interpreters and scientists at five national parks collaborate on developing a digital library of researchers' visualizations for use with the public. iSWOOP project leaders work with the interpreters on interactive techniques to increase curiosity, visual and science literacy, and enthusiasm for park-based research among park visitors.This work is based on a pilot study at Carlsbad Caverns to determine how best to bridge the distance between scientists and their research and the park visitors. The project leverages the talents of park interpreters who interact with thousands of visitors annually. Interpreters are gifted, knowledgeable storytellers of the park history and natural features.
She was one of the main authors of EMPower: Extending Mathematical Power, a ground breaking math curriculum produced by TERC appropriate for adults returning to school for a second chance and young adults, especially those who are high school age and yet struggle with middle school level mathematics. EMPower helps students develop mathematical proficiency to engage with the world more effectively, whether that be as workers, as caregivers, in the community, or as they seek high school credentials and further education. In 2015 Martha coordinated the revision of three of the books in the series distributed by McGraw-Hill, in use in learning centers across the country.
She led Statistics for Action (SfA, 2007-2013). This NSF-sponsored project explores how environmental organizers and the community groups they serve can deepen their own understanding of math as well as be conduits for others' understanding. Citizens who confront environmental issues such as landfill expansions or incinerator permits face a deluge of data from air, soil, and water quality reports, as well as financial and health claims about benefits and risks. SfA resources that are available for free downloading.
For the Mixing in Mathand Math off the Shelf projects, Martha developed training modules, supported library and after-school partners, and contributed to materials design.
On SfA, EMPower, and Mixing in Math, Martha has worked closely with external evaluators—particularly on the design of instruments capturing impact such as shifts in attitude toward math and behavior change.
Martha volunteers for the The New Garden Society and edits fiction for fun. She is a member of Jamaica Plain Progressives (and its Immigration Rights Action Group)
Education
Bryn Mawr College, German Literature, B.A. 1986
Massachusetts College of Art, Sculpture, B.A. 2007
University of Pennsylvania, Education, M.Ed. 1990
Highlighted Publications
Forist BE, Merson M, Allen LC and Hristov NI (2021) A Moving Dune, A Stunning View: Visitors' Recollections of a Ranger-Led Hike at Indiana Dunes National Park. Front. Educ. 6:675672. doi: 10.3389/feduc.2021.675672
iSWOOP Implementation In National Parks Perspectives from Park Leaders, Interpreters, Visitors, and Scientists Report
Merson, M., Allen, L., Cox, P., Hristov, N. Roving with a Digital Visual Library: Increased
Learning Opportunities at Carlsbad Caverns National Park (2016). Journal of Interpretation Research. 21(1). http://www.interpnet.com/NAI/interp/Resources/Publications/Journal_of_Interpretation_Research/Archive/nai/_publications/JIR_Archive.aspx?hkey=7f4c07ef-bdd9-4bae-9858-0b73facfbe19
Merson, M., Char, C., Hristov, N. and Allen L. (2018) Seeking Park-based Science Information: Interpreters at the Gate. George Wright Society Forum 34(3).
Allen, L., Char, C., Wright, T., Merson, M. (2018). Beyond the Brown Bag: Designing effective professional development for informal educators. Integrative and Comparative Biology 58(1). https://doi.org/10.1093/icb/icy026
Hristov, N., Strohecker, C., Allen, L., Merson, M. Designing for Broad Understanding of Science: Insights from practice.   Integrative and Comparative Biology (58)1. https://doi.org/10.1093/icb/icy026