Research and Development Specialist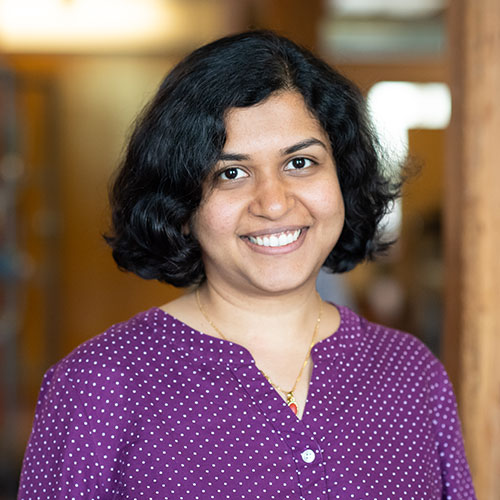 Program/Areas of Interest
Anushree's research interests include science curriculum design and teacher professional development to support teacher and student learning. She is interested in curricula and PD that can provide authentic, academically rigorous, appealing, and accessible experiences in STEM education to a broad population of learners.
Biography
At TERC, Anushree's present work focuses on qualitative evaluation of science educational materials and professional development for use in formal and informal learning environments. Anushree also contributes to design and research on teacher professional development. She is presently conducting qualitative research on the Visualize Teaching Mathematics PD project for middle school coaches and teachers. She previously contributed to design and research on the Empowering Teachers Through VideoReView and Talk Science projects, focused on using classroom video and related PD supports for teacher learning in science. Anushree has also conducted qualitative case studies on designer processes and activities that bring high-quality curricula to fruition.
Education
Anushree has a M.S. degree in Educational Psychology (with a concentration in the Learning Sciences) from the University of Wisconsin-Madison, where she was advised by Prof. Sadhana Puntambekar on the design and research of inquiry-based approaches to support (middle school) students to learn physics through collaborative, hands-on design challenges in the context of an inquiry-based curriculum called CoMPASS.
Previously, she also obtained a M.A. degree in Counseling Psychology, and a B. A. (Honors) degree in Psychology from the University of Mumbai, India.
Honors & Awards
Rank 1 in the Department of Psychology, St. Xavier's College, University of Mumbai (B.A. program)
Academic Excellence in B. A. Honors program, St. Xavier's College, University of Mumbai.
Highlighted Publications
Bopardikar, A., Mutch-Jones, K., Gasca, S., Csikari, M., & Chmiel, M. (2022). Supporting postsecondary educators to develop assessments for student learning based on Backward Design. The American Biology Teacher, 84(8), 459-466.
Bopardikar, A., Bernstein, D., & McKenney, S. (2021). Designer considerations and processes in developing school-based citizen-science curricula for environmental education. Journal of Biological Education.
Bopardikar, A., Bernstein, D., Drayton, B., & McKenney, S. (2021). Designing educative curriculum materials in interdisciplinary teams: designer processes and contributions. Instructional Science, 49, 249–286.
Bopardikar, A., Bernstein, D., Drayton, B., & McKenney, S. (2018). Work-based curriculum to broaden learners' participation in science: Insights for designers.
Bopardikar, A., Borowiec, K., Castle, C., Doubler, S. J., Win, D., & Crissman, S. (2019). Deepening Teachers' Understanding of Students' Thinking: The Interplay of Teachers' Classroom Video, Analysis Tools and Coaching. Journal of Technology and Teacher Education, 27(1), 5-36. Waynesville, NC USA: Society for Information Technology & Teacher Education.
Bopardikar, A., Carlson, J., Kimber, E., Loper, S., Pareja Roblin, N., & Rostovtseva, T. (2018). Three design heuristics for enhancing the use of video to improve teaching practice. Educational Designer, 10(3).