Diverse STEM Interest Development Pathways in Early Childhood
Scott Pattison and Smirla Ramos Montañez
Pattison, S. A., & Ramos Montañez, S. (2022). Diverse STEM interest development pathways in early childhood. In T. J. Kennedy & S. D. Tunnicliffe (Eds.), Play and STEM education in the early years: International policies and practices (pp. 439–457). Springer. https://link.springer.com/chapter/10.1007/978-3-030-99830-1_21
Abstract
As educators and researchers focused on science, technology, engineering, and mathematics (STEM) learning, we often adopt a relatively narrow view of the STEM domains, based primarily on how these topics are defined and taught in school. The concept of play, however, invites us to broaden this perspective and explore the diverse and interdisciplinary ways that children and their families engage with STEM in their everyday lives. Over the last several years, the Head Start on Engineering (HSE) initiative, based in Portland, Oregon, USA, has been developing a family-based program to engage preschool-age children (3–5 years old) and their families from low-income communities in the engineering design process and simultaneously study how these experiences support long-term family interests related to engineering. In this chapter, we describe findings from a retrospective interview study with parents one to two years after they participated in HSE. Through qualitative analysis of the interviews, three distinct interest pathways emerged: (a) engineering focused, (b) prior interest focused, and (c) family values focused. The findings problematize traditional approaches to studying STEM-related interests and highlight the importance of understanding the complex ways families make sense of and engage with STEM through play and other informal learning experiences.
Book Synopsis
Play and STEM Education in the Early Years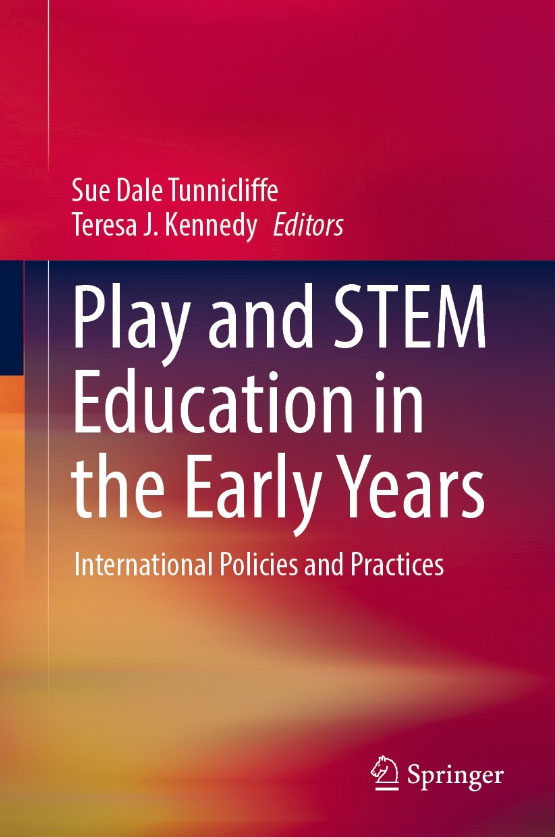 International Policies and Practices
Discusses aspects of STEM inherent in play in the early years
Includes international perspectives of the important role of play in child development
Describes differing policy and cultural practices promoting play
This edited book provides an overview of unstructured and structured play scenarios crucial to developing young children's awareness, interest, and ability to learn Science, Technology, Engineering and Mathematics (STEM) in informal and formal education environments. The key elements for developing future STEM capital, enabling children to use their intuitive critical thinking and problem-solving abilities, and promoting active citizenship and a scientifically literate workforce, begins in the early years as children learn through play, employing trial and error, and often investigating on their own.
Forty-seven STEM experts come together from 16 countries (Argentina, Australia, Belgium, Canada, England, Finland, Germany, Israel, Jamaica, Japan, Malta, Mauritius, Mexico, Russia, Sweden, and the USA) and describe educational policies and experiences related to young learners 3–4 years of age, as well as students attending formal-nursery school, early primary school, and the early years classes post 5 years of age.
The book is intended for parents seeking to provide STEM activities for their children at home and in playgroups, citizen scientists seeking guidance to provide children with quality educational activities, daycare practitioners providing educational structures for young children from birth to formal education, primary school teachers and preservice teachers seeking to teach preschool, kindergarten or children typically aged 5–8 years old in grades 1–3, as well as researchers and policy makers working in science didactics with small children.