Senior Research and Development Associate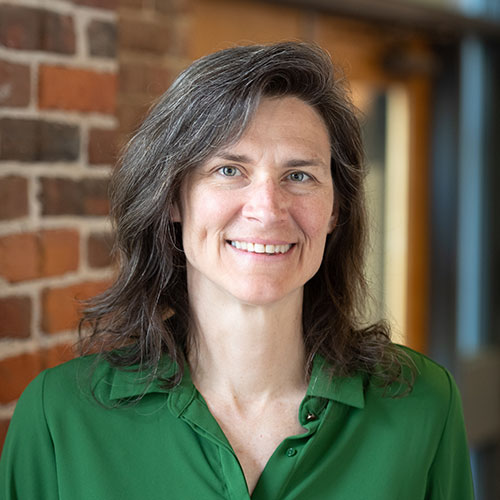 Program/Areas of Interest
Mathematical learning
Discipline-specific practices and modes of reasoning
Data Literacy
Assessment
Mixed methods research
Biography
Dr. Traci Higgins is a Senior Research and Development Specialist at TERC. Her doctorate is in cognitive psychology with post-doctoral training integrating cognitive theory with educational practice. Traci's research at TERC has focused on mathematical learning, including foundational knowledge in the elementary grades, algebraic thinking in the middle grades, and data literacy K-12. At the core of her work is the drive to engage students in increasingly powerful discipline-specific practices, modes of reasoning, and sense making that make it possible for students to become creators, and not just consumers, of mathematics knowledge.
When not working, Traci plays basketball and soccer, raises heritage chickens, hunts mushrooms, gardens, and supports her family's competitive cycling obsession.
Education
Ph.D. (Cognitive Psychology) Clark University, Worcester, MA, 1998
M.A. (Psychology) Clark University, Worcester, MA, 1994
B.A. (Psychology) Bates College, 1991
Highlighted Publications
Russell, S.J.; Schifter, D.; Kasman, R.; Bastable, V.; Higgins, T. (2017) But Why Does It Work? Mathematical Argument in the Elementary Classroom. Portsmouth, NH: Heinemann.
Konold, C., Higgins, T., Russell, S.J., & Khalil, K. (2015). Data Seen Through Different Lenses. Educational Studies in Mathematics, 88(3): 305-325. URL: http://dx.doi.org/10.1007/s10649-013-9529-8
Konold, C. & Higgins, T. L. (2003). Reasoning about data. In J. Kilpatrick, W.G. Martin, & D. Schifter (Eds.), A Research Companion to Prinicipals and Standards for School Mathematics (pp. 193-215). Reston, VA: National Council of Teachers of Mathematics.