Co-Director of SEEC and Senior Researcher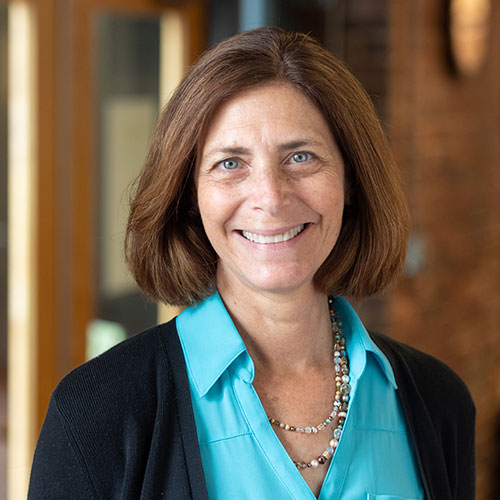 Program/Areas of Interest
Broadening participation in STEM
Curricular access for students with disabilities
Teacher and Paraeducator professional development
Science/computer science education/resources
Biography
Dr. Karen Mutch-Jones is the co-Director of the STEM Education Evaluation Center (SEEC). She has worked on a range of large-scale research and evaluation projects and exploratory studies, since she joined TERC in 2001. Building upon her prior experience as a special educator/professor, Karen's NSF-funded research studies often focus on broadening participation in STEM. Currently, she is co-PI for the Doing the Math with Paraeducators project, developing and testing a professional development model to increase para's confidence and knowledge and pedagogical effectiveness as math educator who support a range of learners, particularly those who struggle to learn math. Prior research studies focused on teacher professional development and curricular access for students with learning disabilities—Lesson Study for Accessible Science and Accessing Science Idea—and curricular enhancements that enable students with visual impairments to access and engage with computer science content.
Currently she serves as evaluation director for the NSF GeniGUIDE project, focusing on teacher instruction within a genetics gaming environment and for the Howard Hughes Medical Institute's BioInteractive resource study and Backyard Wilderness educational outreach campaign.
Education
Ed.D. in Learning and Teaching, Harvard Graduate School of Education
Ed.M. in Counseling and Consulting Psychology, Harvard Graduate School of Education
B.S. in Elementary and Special Education, Wheelock College
Associations
American Educational Research Association
American Evaluation Association
Council for Exceptional Children
Highlighted Publications
Mutch-Jones, K., Gasca, S., Pallant, A., Lee, H-S. (2018). Teaching with interactive computer-based simulation models: Instructional dilemmas and opportunities in the High-Adventure Science project. School Science and Mathematics, 118(5), 141-201.
Ludi, S., Bernstein, D., Mutch-Jones, K., (2018). Enhanced Robotics! Improving Building and Programming Learning Experiences for Students with Visual Impairments. In Proceedings of the 2018 ACM SIGCSE Technical Symposium on Computer Science Education (SIGCSE '18). ACM, New York, NY, USA
Wilson, C., Reischman, F., Mutch-Jones, K., Gardner, A., Marchi, L., Kowalski, S., Lord, T. (2018). Teacher Implementation and the Impact of Game-Based Science Curriculum Materials. Journal of Science Education and Technology, 27(4), 285-305.
Mutch-Jones, K., Bernstein, D., Ludi, S. (2016). Creating access to computer science: Enhancing engagement and learning for students with visual impairments. Visual Impairment and Deafblind Education Quarterly, 61(4), 38-51.