REVISE Center Manager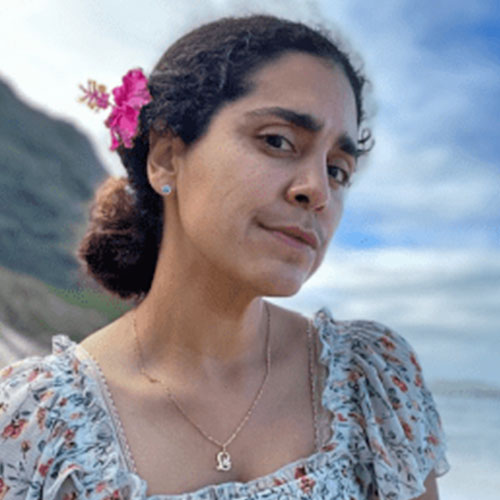 Program/Areas of Interest
Informal Science Education
Equity in STEM
Biography
Ivel Gontan (she/they) is an informal science education professional with a background in research, evaluation, and program management, currently serving as the Reimagining Equity and Values in STEM Education (or REVISE) Center Manager housed at TERC. The REVISE resource center is for the National Science Foundation (NSF) Advancing Informal STEM Learning (AISL) program and is supported by the National Science Foundation (NSF) award DRL-2229061. REVISE is a collaborative effort to advance equity across the informal STEM education field.
Ivel holds an M.A. in Museum Studies with a focus in Education (STEM focus thesis) from John F. Kennedy University, and a B.A. in Philosophy and Anthropology from SUNY Purchase. She is particularly interested in learning ways underrepresented audiences become engaged and succeed in STEM fields and ways that science can be a catalyst for communities to advance their own priorities. She is passionate about organizational culture, developing strategy and vision, and social/environmental justice. She is curious about ways to strengthen networks and how to better support professionals and organizations to develop strong collaborative relationships.
In her most previous role, Ivel served as the Director of Empathy Initiatives at the Woodland Park Zoo in Seattle, Washington. In this role they help guide a team of brilliant individuals working building a social movement around conservation and empathy for wildlife and people. Ivel was part of the inaugural cohort of the Civic Science Fellows with the Rita Allen Foundation housed at the Association of Science and Technology Centers (ASTC) working on their Community Science Initiative. There, she co-developed a framework for community science in informal science learning spaces, focusing on attributes and outcomes of successful collaborations that prioritize community led initiatives. She cares about humanity and the globe deeply and is excited to be working in spaces where conservation is a priority.
In her spare time, Ivel can be found in nature, reading, watching cooking and travel shows, and cuddling her partner and two pups (Coco & Chubbs). She is a first generation Cuban-American, grew up in Southern Florida and is fluent in Spanish.
Education
John F. Kennedy University, MA in Museum Studies with a focus on STEM Education
State University of New York at Purchase, BA in Philosophy with an Anthropology Minor
Honors & Awards
ASTC Diversity and Leadership Fellow (x2)
Highlighted Publications
Gontan, I. (2013). Full Spectrum Science: Successful Strategies for Engaging Latina Girls in STEM Programs. John F. Kennedy University. Berkeley, California.
Huerta-Migus, L., Garibay, C. Gontan, I., (2016) Developing Culturally Responsive Measures, Experiences from the REVEAL Project. Oregon Museum of Science and Industry, Association of Children's Museums, & Garibay Group.
Gontan, I., Pattison, S., Brandon, S., Rubin, A., Andanen, E., Benne, M. (2016). REVEALing Findings From The Field: Experiences Developing and Implementing a Staff Facilitation Model at Two Science Centers, Informal Learning Review. Volume 138, May/June 2016. Denver, Colorado.