Watch Jodi Asbell-Clarke's TedXYouth Talk
On November 4, Jodi Asbell-Clarke was a speaker in TedXBeaconSt, We Know More Then We Can Tell
To unleash the potential of all learners, we need to start looking at what people can do, not just what they can say. Many of the cognitive differences of neurodiverse students (learners with Autism, ADD, Dyslexia and other cognitive functions that make school difficult) may also empower them with creativity, resilience, and innovative approaches to problem-solving.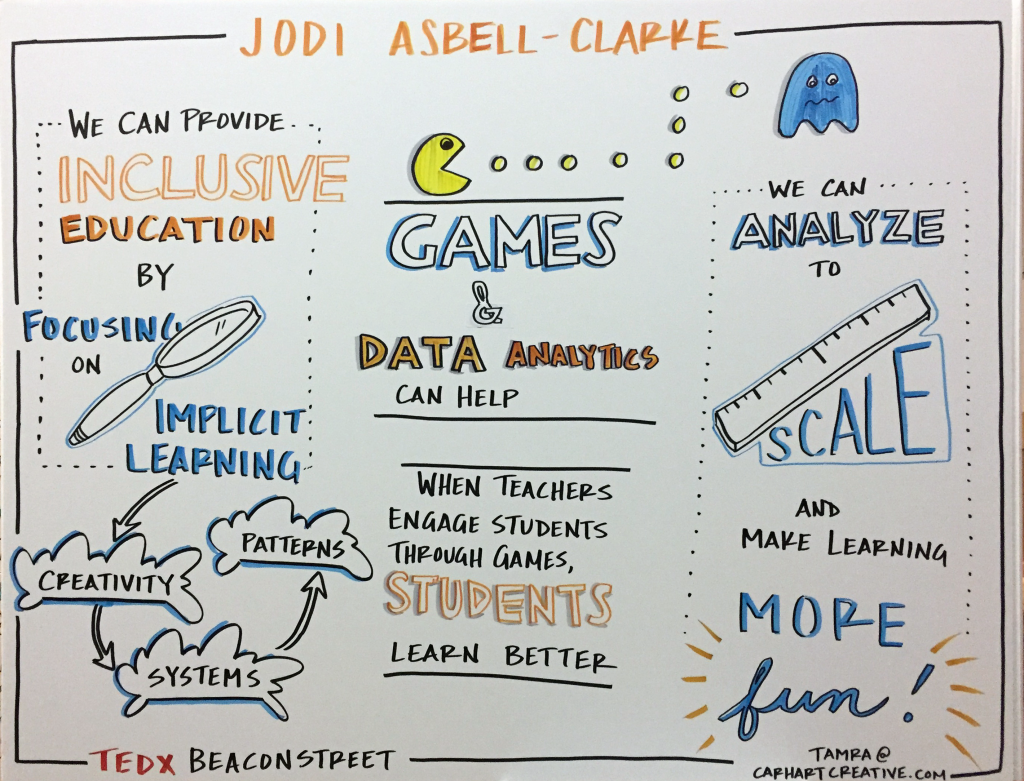 Our education system struggles to measure and support these different ways of thinking, denying diverse learners their optimal learning opportunities and robbing our future workforce of the talent and ingenuity that diverse learners offer.
Digital environments—including games, augmented, virtual and mixed reality—offer new ways to measure learners' implicit knowledge, not relying on a test. Games have the "stickiness" that motivate diverse learners to drill deeper, pursue new challenges, and persist to solve problems. Digital environments generate data logs and educational data mining models—algorithms that identify common patterns of behavior to see where each learner struggles and succeeds in a digital experience—can inform teachers and designers how to customize learning experience for each and every learner.

Dr. Jodi Asbell-Clarke is the co-founder and co-director of the Educational Gaming Environments Group (EdGE) at TERC. Jodi and the EdGE team of game designers, educators, and researchers study implicit STEM learning in digital games to transform science education.
A believer in Seymore Papert's term 'hard fun', EdGE applies it to education by designing challenging free-choice STEM learning games that are within the grasp of the player motivating them to keep playing and learn advanced science content in their free time. EdGE researchers also use educational data mining to measure implicit learning in games, and work with educators to understand how it can be leveraged to measure classroom learning of related STEM content. EdGE is currently researching how AR and VR can enhance learning, especially for learners with particular skills and challenges, such as ADHD and autism.
Before joining TERC, Jodi dreamed of being an astronaut and went to Houston where she was an onboard software verification analyst for IBM during the first 25 space shuttle missions. She also taught Physics and Astrophysics to some of the brightest students in the country at the laboratory school at University of Illinois. Jodi's academic background includes an MA in Math, an MSc in Astrophysics, and a PhD in Education. This talk was given at a TEDx event using the TED conference format but independently organized by a local community
For more about Jodi and EdGE's work, go to edge.terc.edu