Walch Education and TERC partner to bring TERC's EMPower Series to adult educators and learners everywhere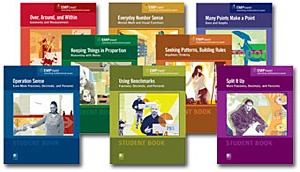 PORTLAND, Maine ­­— Walch Education and TERC, Inc. (Cambridge, MA) today announce a new partnership to offer TERC's highly-respected EMPower™ and EMPower™ Plus series.
EMPower and EMPower Plus address the tremendous need for adult students to develop a strong conceptual foundation that supports the achievement of higher-level math skills. The series was written by adult education professionals, field-tested in adult education programs, and is aligned with the College and Career Readiness Standards for Adult Education (CCRSAE).
Heidi Schuler-Jones, Director of TERC's Adult Numeracy Center, has worked with many educators who say EMPower teaches them new and creative ways to introduce and develop mathematical concepts.
"Teachers love the hands-on activities and how they make learning math fun. They're also thrilled by the ease of integrating content from other academic areas, such as science and social studies, into their EMPower lessons," Schuler-Jones said.
EMPower shifts the emphasis away from formula memorization and decontextualized procedures, instead engaging students with an active approach to learning, inviting them to explore, investigate, make connections, and collaborate on math concepts and real-world problems.

Both organizations agree a partnership between TERC and Walch Education is the perfect fit for EMPower given Walch Education's commitment to offering the highest quality, research-based educational resources to educators and students, both online and in print.
Al Noyes, Walch's CEO, remarked "We are delighted to partner with the TERC team. The quality of TERC's work, and its reputation, are second to none. And EMPower's approach is particularly well suited for adult learners".
Laurie Brennan, President of TERC added, "The EMPower series has provided the adult education field with unique, hands-on and conceptually-based materials for years. We are excited to partner with Walch Education, who will help ensure EMPower continues to enhance adults' numeracy skills development and give learners access to the materials in multiple ways with Walch's Curriculum Engine platform."
Professional development for implementing the EMPower materials is also available through TERC's Adult Numeracy Center.
Purchase books and download free samples at https://walch.com/terc-empower/.
About TERC
TERC is a nonprofit made up of teams of math and science education and research experts. For more than 50 years, TERC has taken a learner-centered approach to education in both formal and informal settings. TERC's work encompasses research, content and curriculum development, technology innovation, professional development, and program evaluation. Through TERC's curricula and programs, students develop the knowledge and skills needed to ask questions, solve problems, and expand their opportunities. TERC's professional development helps teachers and facilitators utilize new tools, materials, and inquiry-based strategies to enrich the learners' experience. With a passion for social justice, TERC strives to create level playing fields for all learners, reaching more than three million students each year.
About Walch Education
Walch Education is a leading developer and publisher of online teaching and learning solutions and tailored curriculum. Adapted to fit the needs of each state and district partner, Walch's proven solutions give teachers what they need to extend and enhance student learning. The company's Curriculum Engine leads the way in a new category of "Curriculum-as-a-Service" offerings, helping teachers teach more effectively so that students can succeed. Curriculum Engine is a uniquely turnkey solution, enabling school districts to rapidly tailor high quality resources and support a seamless transition from classwork to remote work and back again.