The STEM for All Video Showcase Announces 2019 Dates
FOR IMMEDIATE RELEASE
Contact:
Joni Falk, TERC
contact@stemforall.videohall.com
Building on Four Years of Success, The STEM for All Video Showcase Announces 2019 Dates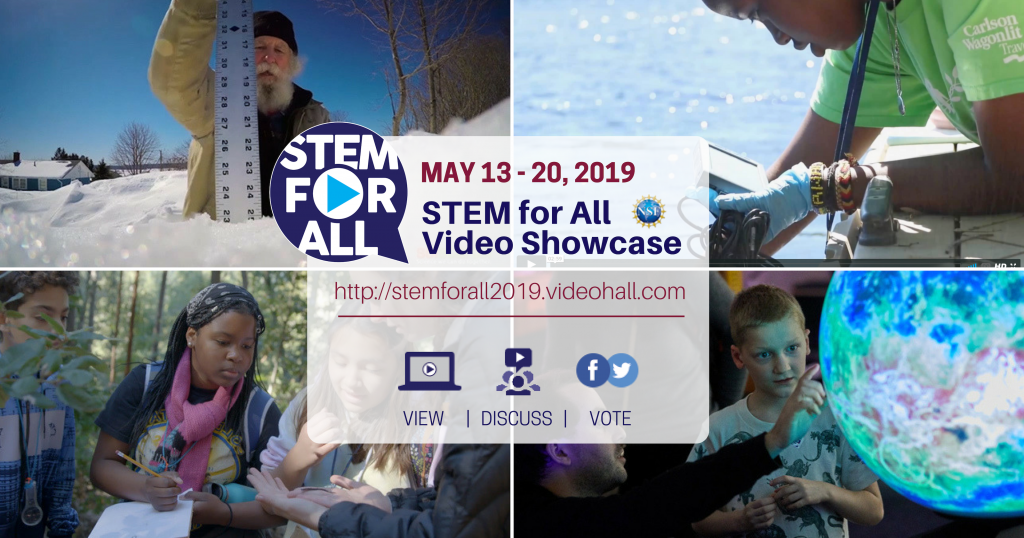 Hosted by TERC and funded by the National Science Foundation, the STEM for ALL Video Showcase encourages researchers, practitioners, policy makers and the public to Save the Dates: May 13th – 20th
Cambridge, MA — The STEM for All Video Showcase is a free, online, interactive film festival that features videos from hundreds of projects aimed at improving STEM education. Starting May 13th, viewers from around the world will watch, share, and interact with projects that are transforming science, technology, math, engineering, and computer science learning. For registration and submission deadlines, please visit: STEMforAll2019.videohall.com
"The Video Showcase provides a platform where people can talk directly to those behind todays latest research and innovations," said Joni Falk, Principal Investigator of the Video Showcase and co-director of the Center for School Reform at TERC. "We want to make sure everyone who wants to present has enough time to create a video and benefit from the connections they will make. We are encouraging projects to start looking for opportunities to capture footage now."
The annual Video Showcase is in its fifth year and continues to be a powerful vehicle for projects to broadly disseminate their innovative work. The 2018 Video Showcase hosted 213 video presentations, each representing a project funded by the NSF or other federal agency. The presentations have been viewed by over 68,500 unique visitors from 179 countries.
"This was a very important dissemination piece for our project. I was surprised at how many people viewed our video, and at the quality of the discussion," said Jan Mokros, Senior Scientist, Science Education Solutions.
Videos for the 2019 Showcase should represent the theme: "Innovations in STEM Education"; be less than 3-minutes in length; and represent a federally funded project. Some video presentations will be awarded recognition on the site at the end of the event as "Public Choice," "Presenters' Choice," or "Facilitators' Choice." Full video requirements along with additional information about this year's showcase can be found at STEMforAll2019.videohall.com.
The STEM for All Video Showcase is created and hosted by TERC, in partnership with six NSF-funded resource centers: MSPnet, CADRE, CAISE, CIRCL, STELAR, and CS for All Teachers. The showcase is funded by a grant from the National Science Foundation (#1642187).
About TERC and Its Mission
For over 50 years, TERC has introduced millions of students to the excitement of mathematics and science by creating effective programs, educational games, innovative curricula, and professional development experiences for teachers. TERC is an independent, research-based organization dedicated to broadening participation and increasing access to high quality STEM experiences for all students.