New Storytelling Math Book
A playful story that models engaging conversations between parent and child, Clean Up, Up, Up! includes a note by early childhood education expert Susan C. Levine that shows parents and caregivers how everyday activities offer rich opportunities to teach early spatial math concepts.
This material is based upon work supported in part by TERC under a grant from the Heising-Simons Foundation.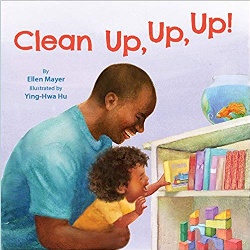 Clean Up, Up, Up! / ¡Arriba, arriba, arriba a limpiar!
It is cleanup time, and Daddy and his little one are putting away books, blocks, teddy bears, and train cars, washing hands, and preparing for dinner all while having fun with math! As Daddy talks with his toddler, he uses spatial-relationship math words and phrases like up, down, inside, outside, next to, and under to reinforce his young learner's understanding. When it is dinnertime, the little one proudly demonstrates an understanding of down when helping to set the table and up while enjoying the first delicious bite!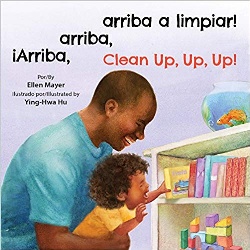 Ellen Mayer, author of the Small Talk Books® series, is a former Harvard Graduate School of Education researcher and early literacy home visitor. She has been awarded a writing fellowship from the Heising-Simons Foundation, to create math-infused fiction picture books. Ellen writes her children's books to entertain and educate both children and the adults who read to them. She holds an M.Phil. in Sociology from Columbia University. ellenmayerbooks.com  |  @ellenmayerbooks

Ying-Hwa Hu is an award-winning illustrator. Her work has been exhibited at the Bologna Book Fair and the Society of Illustrators Original Art Show.
Published by Star Bright Books.