Council for Exceptional Children 2017 Convention & Expo
Thousands of educators convened in Boston April 19–22 for the world's largest special education professional development event. CEC 2017 hosted over 4,000 educators from around the globe, to gain insights and explore solutions to the most important and challenging topics facing special education today. Over 500 sessions and workshops highlighted the newest research and strategies in special education and the policy developments that affect teachers and their work every day.
One of the Robotics, Engineering and Online Math sessions was led by TERC's Karen Mutch-Jones with co-presenters Debra Bernstein, TERC, Cambridge, MA, Stephanie Ludi, University of North Texas.
Enhanced Robotics! Increasing Computer Science Access for Students With Visual Impairments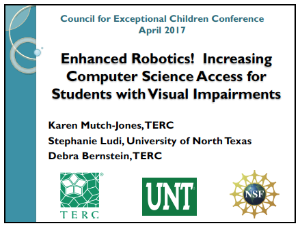 Robotics activities can benefit computer science learning, teamwork, and workplace skill development. However, they are often not accessible. Through presentation, demonstration, and student videos, participants will explore successful robotics enhancements—tools and instructional approaches—that engage and support students with visual impairments and learning challenges to build, program, and enjoy robots.