Three Youth-oriented Modules
Data Clubs modules are designed to reflect the interests of middle school learners but are also appropriate for older youth. We developed three modules; click on the links below for more information and to request materials:
Each module includes approximately 10 hours of activities, PDFs of printable content, and a list of materials needed. There are also links to several curated datasets in CODAP, the free, web-based data analysis tool designed for "data scientists" in grades 6 through 14—no special information is necessary to access and use it. The Data Clubs team has also prepared a set of "Challenge Cards" to help youth learn how to use CODAP.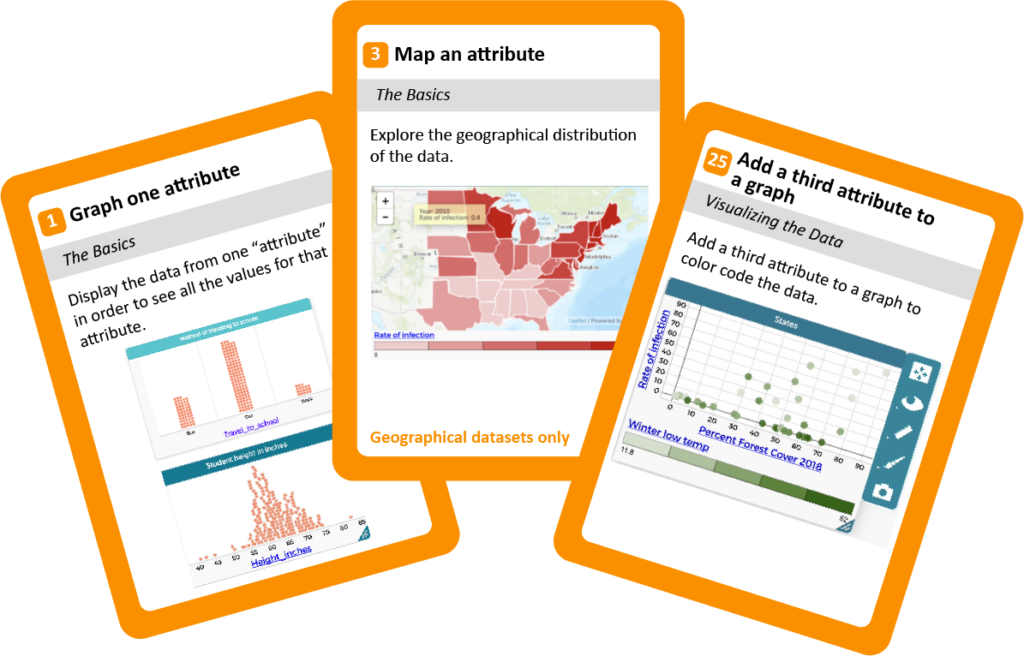 The CODAP Challenge Cards can be accessed here: [Download PDF 4MB]
If you prefer to use them as physical cards, here's a printable version: [Download PDF 6MB]
Data Clubs activities are grouped into five, two-hour sessions that can easily be offered in shorter or longer time blocks. The modules may be used in an in-school setting, but because they were designed and tested for out-of-school settings, such as afterschool programs or summer camps, the modules' statistical content is determined by the data themselves, and student interest, rather than on meeting curriculum benchmarks..
The modules will be most effectively delivered by teachers or facilitators who are already familiar with some data science concepts. The materials include instructions for facilitators.
Instructions for accessing each module are available on the module's page.