What Happened in the Classroom
In both the pilot test in Massachusetts and Ohio and the field test in Arizona, Kansas, Louisiana, and Rhode Island, the 20 teachers from each state developed work samples from their students' work in their classrooms in Data and Graphs and Algebra. The Work Sample is a tool for helping bring together in a meaningful, coherent way planning, instruction, and assessment that fosters student learning. It represents the kind of planning, implementation and assessment that should be ongoing in the classroom, although it may not always explicitly detail the teacher's actions.
The work sample includes:
description of the classroom context and students being taught;
description of the classroom activity; and
the collection, interpretation, and reflection upon evidence of student progress toward attainment of the desired learning outcomes.

TIAN Participant Work Samples
Data and Graphs Lessons in the Classroom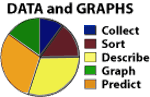 Algebra Lessons in the Classroom