Everyday Engineering
Engineering is not just about building bridges or tall buildings—it's a process that engineers follow to create and test solutions to a problem. We also use this process to solve problems every day, like figuring out a food recipe or building a bookshelf. Like science inquiry, young children naturally engage in engineering design as they play and explore the world around them.
You don't need to be an expert in engineering to help your child use engineering design skills or practice everyday problem-solving. You can use the activities, videos, and resources on this website to learn about engineering together. Talking about the engineering design process with your child and using the process when you play together is a great way to get your child interested in engineering and help them develop problem-solving skills.
In the Head Start on Engineering project, we describe engineering as designing and testing ideas to solve problems in work and life. With families, we introduce the engineering design process as a five-step, iterative cycle:
Ask—Ask questions to understand the problem and what you need to solve it.
Imagine—Brainstorm as many possible solutions and designs as you can.
Plan—Pick a design and decide how you will use your materials.
Create—Build and test your design to see how well it solves the problem.
Improve—Make changes to your design based on what you learned.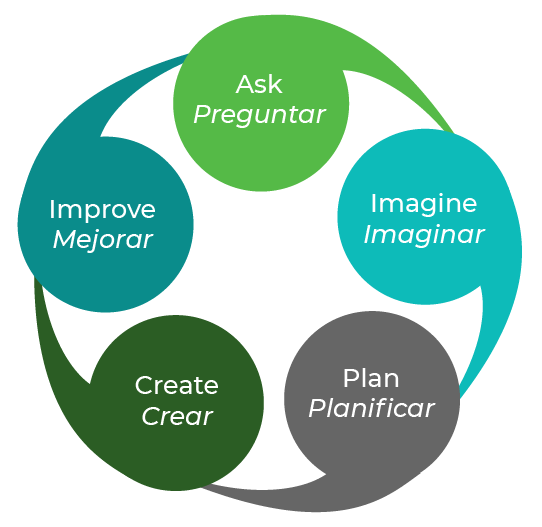 Watch the videos on this webpage for examples of everyday engineering in action. You can also download this handout as a simple reminder of the engineering design process when playing with your children.